Fire Alarms in Milton Keynes & Northampton
J. M. Electrical Services are able to install and design a range of auxiliary products including fire alarms and emergency lighting systems for commercial and industrial businesses throughout Bedford, Milton Keynes, Northampton and further afield. Our skilled team of qualified commercial and approved industrial electricians are able to offer a selection of installations, repairs and electrical maintenance services nationwide.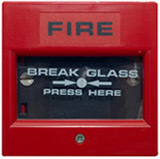 Fire alarms are always a key factor in adding protection to a building and the people who work or live there. Therefore, it is essential that these are tested and inspected on a regular basis to ensure they are in full working order and have no electrical faults preventing them from working correctly.
If you require any fire alarm or general alarm services then please contact us today by calling 01234 436 411 where we will be happy to help you further with your requirements.
Emergency Lighting in Bedford & Beyond
J. M. Electrical Services provide a professional service for the fitting of a wide range of emergency lighting schemes, whether it is for an industrial or commercial business. Our modern installations mean that we can install emergency lighting to suit the layout of various types of buildings, to meet with your budget and your requirements.
We can provide a range of installations for fire exit signs, corridor lighting and low lighting. Emergency lighting also requires regular testing to ensure that it meets with health and safety regulations, so be sure to keep us in mind and contact us if this is a service that you require.
As well as fire alarms, and general electrical services, we also provide electrical maintenance, data communications and emergency electricians which are available 24 hours a day. For emergency electrical services please call 01234 436 412, day or night.